New Season, New Beginnings!
January 15, 2016
Hello Buddyfighters! It has been a while, hasn't it? As promised, today we are going to reveal our super special feature on… *drumroll*… the new season of Future Card Buddyfight!
Aren't you psyched? I sure am! This news was just released hot off the press by our Japanese counterpart yesterday, as some of you might have already noticed. In today's Buddyfight Buzz we will be revealing exclusive information for the English Edition Future Card Buddyfight, and we have a lot of exciting bits to present!
Without further ado, let's get down to it! Time to raise the flag!! Luminize!!
We hereby present to you the English Edition logo of the new, upcoming third season of Future Card Buddyfight! As you can probably guess from the image, the series title is called "Triple D"! It doesn't take a rocket scientist to get what the "Hundred" in "Future Card Buddyfight Hundred" means, but what does "Triple D" signify…? For now, I'll leave it up to your imagination. You will find out the answer very soon by watching the anime, which will be made available on our YouTube channel. Stay tuned to our website and Facebook page to find out the release date! In the meantime, do check out the latest episodes of Future Card Buddyfight Hundred, also available on our YouTube channel, as the story arc is reaching its climax!

---
Season three marks the third year of Future Card Buddyfight. As we recognize what makes Future Card Buddyfight fun and exploring what we can do to make it better, we have lined up some of the exciting developments you can expect in the year to follow!
★ ★ ★ Triple D ★ ★ ★
Anime
Season three will feature a lot of new beginnings as Gao and friends meet new people, encounter new Buddy Monsters, figure out a new type of impact, and embark on a new chapter in the story!
What? New friends?! New buddy monsters?! … and a new type of impact?!?! We will reveal more about this further down this post, so read on!
The games will also be easier to follow, with the fights swifter and more animated! As always, the anime will continue to explain how combos work, so viewers who are new to Future Card Buddyfight will be able to understand the battles and even learn some Buddyfighting tips from the anime! Look out for the new developments and follow our protagonists in their new story!
Products
Other than developments in the anime, we will also be having some modifications for the card products. First of all, there will be improvements in the rate to get higher rarities. You will be able to make your perfect deck as it will be easier to get those RRRs and RRs for Triple D card products! Rarities will also be easier to tell apart each other at a glance! Look out for these changes!
[Correction: There are currently no plans to alter the appearance rate of those two rarities. We apologize for any misunderstanding and inconvenience caused.]
Additionally, future SECRET rarity cards will not contain cards that are used by the protagonists. Hmmmmmmm… What does that signify?! More information will be announced in the future. 🙂
---
★ ★ ★ Triple D Start Decks ★ ★ ★
Release Date: March 4, 2016
Release Date: March 4, 2016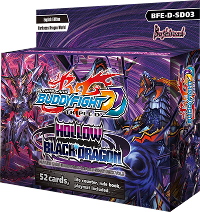 Release Date: March 4, 2016
Scorching Sun Dragon, Cross Dragoner, and Hollow Black Dragon are the brand new start decks set at affordable prices! With user-friendly cards from Dragon World, Star Dragon World, and Darkness Dragon World, these decks will definitely allow one to easily get into the game! These low-priced start decks release is a perfect chance to invite more friends to jump into the world of Buddyfight! They will also include a brand new card type: Impact Monster!!

---
★ ★ ★ Impact Monsters ★ ★ ★
This newest card type addition to the game, Impact Monsters, will burst into the scene!! These cards can only be called in the final phase, and they are considered as both Impact cards and Monster cards! Impact Monsters are powerful cards that can attack during the final phase or a normal attack phase! Rules of these cards will be covered in the Q&A soon to come. Do look forward to it!

---
★ ★ ★ Triple D Booster Pack ★ ★ ★
This first booster pack of Triple D series: Unleash! Impact Dragon!! will be released on April 15th! Yes, you've heard it here first! This powerful booster pack will be full of powerful new cards and many Impact Monsters! We are also including 5 new PR cards as box toppers. More details on the specification will be published in the product page of our website soon. Stay tuned!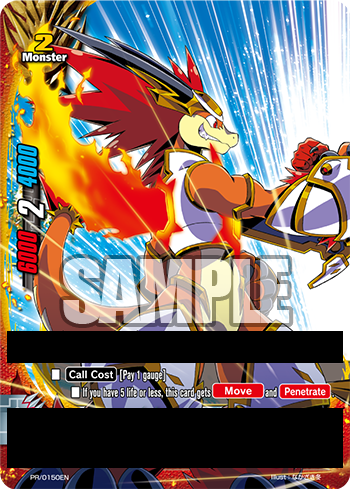 ---
★ ★ ★ Events ★ ★ ★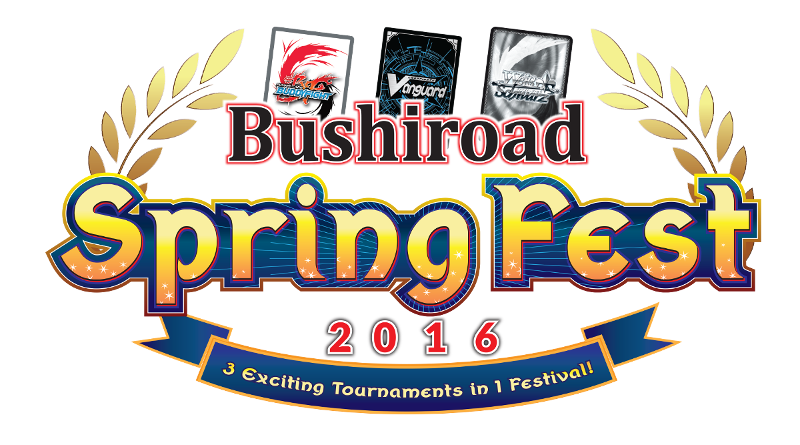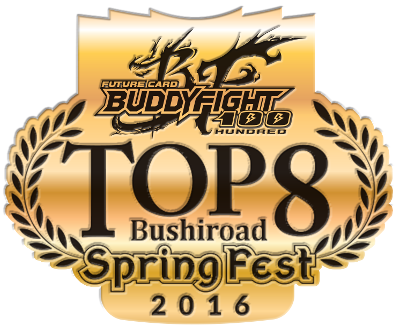 As the last tournament season came to end, a new one begins! The Buddy Challenge series returns in the upcoming Bushiroad Spring Fest (BSF) 2016! This year, the tournament include Continental Championships in more locations! What's more, players who advance to top 8 will receive this Top 8 Pin! Visit the event website for more information and event updates.
Of course, the next Bushiroad World Championship will follow on the later half of 2016. Get yourselves geared up for these major tournaments!
---
★ ★ ★ Bushiroad Online Shop ★ ★ ★

We have some exciting news from the Bushiroad Online Shop! We concluded the "Wear Your Favorite World" Campaign, and it is decided that T-shirts featuring emblems of the favorited Star Dragon World, Magic World, and Dragon World, as well as the Editor's pick Darkness Dragon World will be making their debut as ONLINE EXCLUSIVE items! Look forward to the exclusive apparel launching in early 2016!
Another good news is that the Online Shop now ships to the U.S. & Canada! To celebrate this launch, everyone will enjoy a 10% discount on all purchases above $100*. More products will be added in the coming weeks so stay tuned!
---
To sum everything up, it's going to be another exciting year for Buddyfight! That's all for today's Buzz-full article! The next column resumes on Monday as usual. Until then, let's continue to Buuuddy—fight!!
February
Missing Moon Columnist
Not born in February, he just likes the month more than others. A regular in Bushiroad events, he plays not only Buddyfight, but also all other Bushiroad games. Is into both fun and competitive play. Who knows, you might have played against or met him before…
---