Shine Brightly, Sun Dragons!
March 14, 2016
Fans of Dragon World rejoice! With a new season of the Future Card Buddyfight come all-new cards with a brand new attribute to play around with: 《Sun Dragon》 !
Triple D Start Deck Vol. 1: Scorching Sun Dragon
Introducing the 《Sun Dragon》 attribute to the game, set to take the game by storm! A new evolution for Buddyfight, fresh new abilities for both veterans and new fighters!!
Following the style of previous Dragon World cards, the Sun Dragons feature powerful offensive cards with destructive abilities and high offensive stats! Cards like "Giant Flare Dragon" are perfect for paving the way directly to the opponent, synergizing perfectly with "Mera Blade Dragon" that gains a bonus critical if the opponent has no monsters in the center. If getting past your opponent's defenses with brute force is more your thing, "Flaming Sky Cavalry Dragon, Blazing Sun" can cut through the centerand deal [Penetrate] damage as well! It also gains bonus defence if your opponent leaves his or her center open. There are new weapons to complement this style, too! "Sun Fist, Rising Knuckle" offers 5000 power with 2 critical and [Penetrate] – truly a simple but effective card.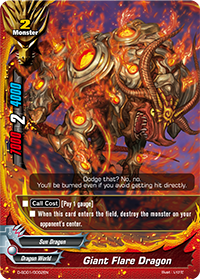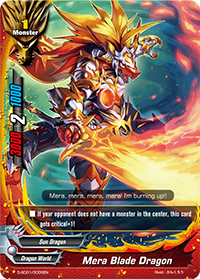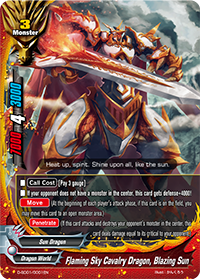 ---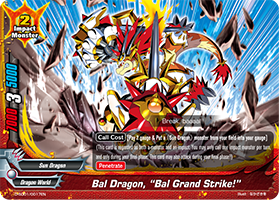 The real showstopper is, of course, the impact monster
"Bal Dragon, "Bal Grand Strike!""! Impact monsters can only be called to the field during the Final Phase, and are treated as both a monster and an impact card. This card can attack during the Final Phase as well! "Bal Dragon, "Bal Grand Strike"" offers a glimpse to the future of impact monsters, but we can't show you guys everything just yet!

---
What we can show, however, is an exclusive preview of some cards that gel well with this new playstyle! Check out these Sun Dragons coming your way in the upcoming release: Triple D Booster Pack Vol. 1: Unleash! Impact Dragon!!!
Flamewing Dragon
■ [Call Cost] Pay 1 gauge
■ At the end that this card attacked, if your opponent does not have a monster in the center, for this turn, this card gets [Double Attack].
A size 2 monster that boasts 6000 power and 2 critical with the potential of gaining [Double Attack] at the end of the battle, "Flamewing Dragon" is a great new Sun Dragon that can help open up the damage gap between you and your opponent. It can also be used to get rid of potential threats on your opponent's left and right slots.
Blazehorn Dragon
■ [Call Cost] Pay 1 gauge
■ When this card attacks a monster in your opponent's center, destroy that monster!
[Move] (At the beginning of each player's attack phase, if this card is on the field, you may move this card to an open monster area.)
A lot of these effects require the opponent's center to be open, and if your opponent has a monster with [Move], that's going to throw a wrench into your plans. With "Blazehorn Dragon", however, you'll still get to break through the middle! While it only has 1000 power and 1000 defence, it has 2 critical and is only a size 1!
Shinestorm
■ [Cast Cost] Pay 2 gauge
■ Put a soul from a card on your opponent's field into his or her drop zone. If that card is in the center, put all souls from that card into his or her drop zone instead.
What if your opponent's monster is a card with [Soulguard]? Or worse, if your opponent is using a card like "Black Dragon of Demise, Death Tallica" that can revive multiple times?! Fret not – with "Shinestorm", you can ensure that it cannot revive itself at all! The cost for using "Shinestorm" is a little hefty though, so do manage your resources carefully! And it won't matter that you have no gauge if you win the game there and then, right?
Cover Fire of the Solar Cannon
■ [Cast Cost] Pay 1 gauge
■ [Set] (This card remains on the field.)
■ When an attack by a 《Sun Dragon》 monster on your field destroy your opponent's monster, deal 1 damage to your opponent!
■ You may only [Set] one "Cover Fire of the Solar Cannon" on your field.
When monsters on your opponent's field are destroyed by an attack from your Sun Dragon, you get to deal 1 damage to your opponent! This works perfectly with "Flamewing Dragon", as you still get to deal damage to your opponent as you're clearing out his or her board.
Sun Fist, Burning Sun
■ [Equip Cost] Pay 1 gauge
■ If you have two or more 《Sun Dragon》 monsters on your field, this card gets critical+1!
If you already managed to pave the way through the center, then you might want to use "Sun Fist, Burning Sun" instead of "Sun Fist, Rising Knuckle" for that 1 additional critical!
---
Dragon World has always specialized in overwhelming offense, and the Sun Dragons are no different. Many of their cards, as featured above, deal with getting rid of the opponent's center stage and going all out on the opponent with high critical monsters!
And that's all I can share with you guys today! Do look forward to the release of Triple D Booster Pack Vol. 1: Unleash! Impact Dragon!! to boost your Sun Dragon deck!
Till next Monday!

< previous columnnext column >​
Ronin
The Wandering Columnist
An avid card gamer who dabbles a little in every card game he can get his hands on. Considers weakness a sin. Thinks that the weak ones should just go home.

---