Interview with BWC2016 World Champion
February 16, 2017
Bushiroad World Championship 2016 World Finals has finally concluded! On January 14 2017, the top 4 players from Continential Championship gathered on our Final Stage, Tokyo Japan, to determine who is the top buddyfighter in the world!
After rounds and rounds of intense fights, the World Champion finally emerged! We had the honor of interviewing the BWC2016 World Champion, Panos Sotiropoulos! Let's take a look what he has to share with us!
---
BWC2016 World Final Champion
World Final Champion
Name: Panos Sotiropoulos
World: Searing Executioners
~~
Buddyfighter from Greece
Q: How do you feel about the match today?
A: I feel like I'm on top the world right now! I feel really good about it. The final matches were really intense. I thought for 2 or 3 times. I thought I was going to lose. But my opponent would beat me to death.
Final Match: Panos VS Vishal
Q: How long have you been playing Buddyfight?
A: I've been playing Buddyfight from August 2015. That's when I started to play Buddyfight. For around 2 years.
Q: Is this your first time in Japan for World Finals?
A:Ya, it's my first time in Japan.
Q: What do you think about the environment so far? Do you like being here in Japan?
A: Tokyo is a great city. I would love to live here. It's a great city. I love everything I see along the street, the building, the people. They all seem so nice. And I like being here too, in the Office of Bushiroad.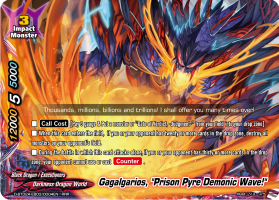 Q: What the best card that has helped you most today?
A: The most important card in general for my match was Tempest Jailer, Helle Cougar. Because that card really helped me beat the Dragon Zwei player, Austin. But the most important card that has brought me to victory was this (showing Gagalgarios, "Prison Pyre Demonic Wave!"), because I used it 2 times in my final game, in my final match. Cause you really need to go fast against the Zetta.
Panos showed us his best card during interview
Q: Do you have any advice for players who want to start Buddyfight and learn more about the game?
A: I think that you should play a lot at your home and play test with your friend because that's gate to victory. That's the key to getting yourself better, to learn how to build your decks better. It also raises your confidence. Try to be confident to take on the big stage and win.
Q: Will you be joining our tournament again next year?
A: Yes, definitely. I will be playing Buddyfight. And win again and again and again…I want to be here next year so I will try my best to do it. I know it won't be easy with the new system but I will try my best to make it.
From left to right: Bushiroad Staff, 3rd Place: Austin Somers, Champion: Panagiotis Sotiropoulos, 2nd Place: Vishal Dharshan, 4th Place: Kevin Patterson.
Lastly, let's see what Panos has to say to his friends and family!

Thank you for your time, Panos, and we hope to see you next year!
---
Upcoming next will be Bushiroad Championship Series 2017! Do check out the event page and our Facebook page for the latest updates!

---
That's it for today's article folks! Stay tuned to Buddyfight Buzz for more event reports and exciting news! Until then, keep on Buddyfighting!

< previous columnnext column >

Ronin
The Wandering Columnist
An avid card gamer who dabbles a little in every card game he can get his hands on. Considers weakness a sin. Thinks that the weak ones should just go home.
---