Buddyfight Reborn!!!
March 16, 2017
Hello Buddyfighters, it's been a while since our last article! How's everyone doing?
Not too long ago, we unveiled the main graphics of the upcoming animation season, Future Card Buddyfight X! With numerous new characters and monsters coming in the picture, it seems like the story is taking quite a turn! How will the tale unfold?! Stay tuned to our updates to find out!
On the card game side, a few things are taking a turn as well! Starting from the season's first booster set (X-BT01) "The Dark Lord's Rebirth", there will be exciting developments in store for you.
Are you ready? 3…2…1…
Points to look forward to in X-BT01 "The Dark Lord's Rebirth"
1. SECRET Packs chances UP!!!
Unlike our past releases, normal boosters in this new installment will now feature 1 SECRET pack per display! It means it will be easier for you to add those fancy, powerful cards to your collection! Score!
*BR and SP card now appear in a different pack from a SECRET pack.
**It is not guaranteed that BR or SP cards will appear in every display.
★ ★ ★
2. Specials reborn!!
Specials, or "SP", are cards featuring exclusive illustrations different to their counterparts in other rarities. This time round we are introducing Specials that will melt the heart of card collectors! Expect cards with character & monster side-by-side, character flags, and much more!

★ ★ ★
3. Buddy Rares reborn, too!!!
Behold the new radiance of our upcoming Buddy Rares! Buddy Rares in the past releases was only treated with golden color, but they will soon be reborn to novel hues that they belong in! Included in X-BT01 "The Dark Lord's Rebirth" are Batzz in Metallic Orange, Athora in Metallic Blue, and the deity form of Kyoya Gaen in Metallic Red.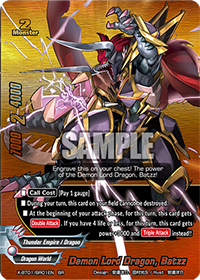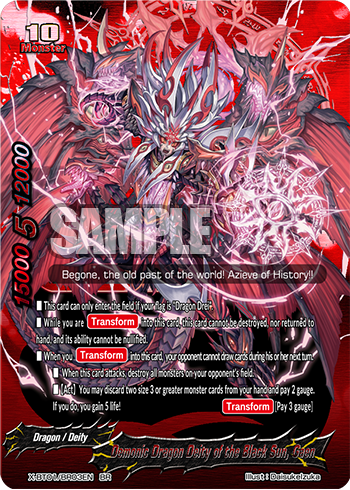 Aren't they stunning?! These colorful Buddy Rares will definitely be an integral part of every proud Buddyfighter's arsenal!
★ ★ ★
---
That's all the updates we have for today! The new season's looking great, isn't it? We hope everyone excited for these developments and will continue to enjoy Buddyfight in the new season.
Luminize!!
Note: Specifications may be subject to change. Actual product may vary from images shown.

< previous columnnext column >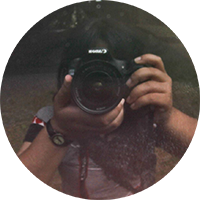 Kohai
Junior Columnist
Like many generation Y Yuppies and Millennials, the only thing that's predictable about Kohai is her unpredictability. Always behind the lens on Bushiroad events in the hunt of ludicrous moments which unfortunately always turn out blur. She is just a junior after all…
---